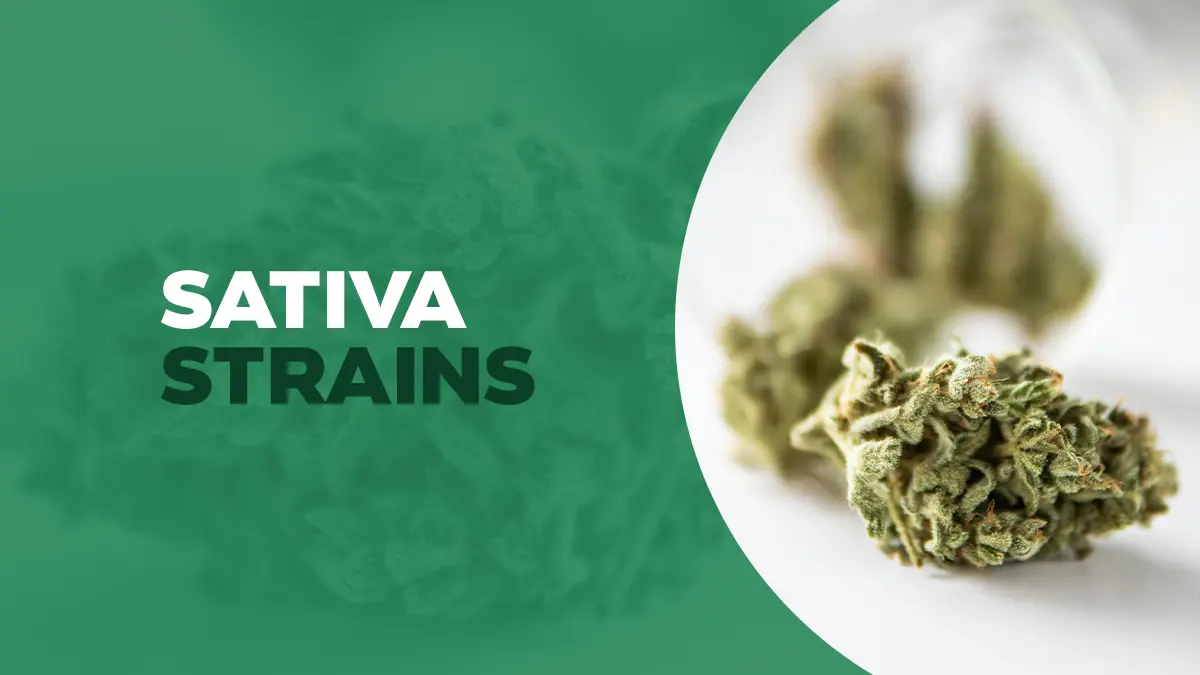 It's been a good year for cannabis sativa, and right now, there are some amazing strains of it around.
To celebrate this, we picked out 5 of the best sativa strains that you can find right now having tried out a bunch of strains for ourselves.
At the top of the list, it's the almighty Durban Poison in all of its 100% sativa glory. But perhaps you might want something a little more mellow, something with a slightly higher THC percentage or a different flavor?
Either way, we've got you covered, so stay tuned!
Our Top 5 Sativa Strains
With sativa, you're likely to feel elated, energetic and find things amusing. That's not a bad combination of sensations, right?
So, with that in mind, let's take a closer look at each of our top picks and find out where to get hold of them. 
1.  Durban Poison – Best Sativa Strain Overall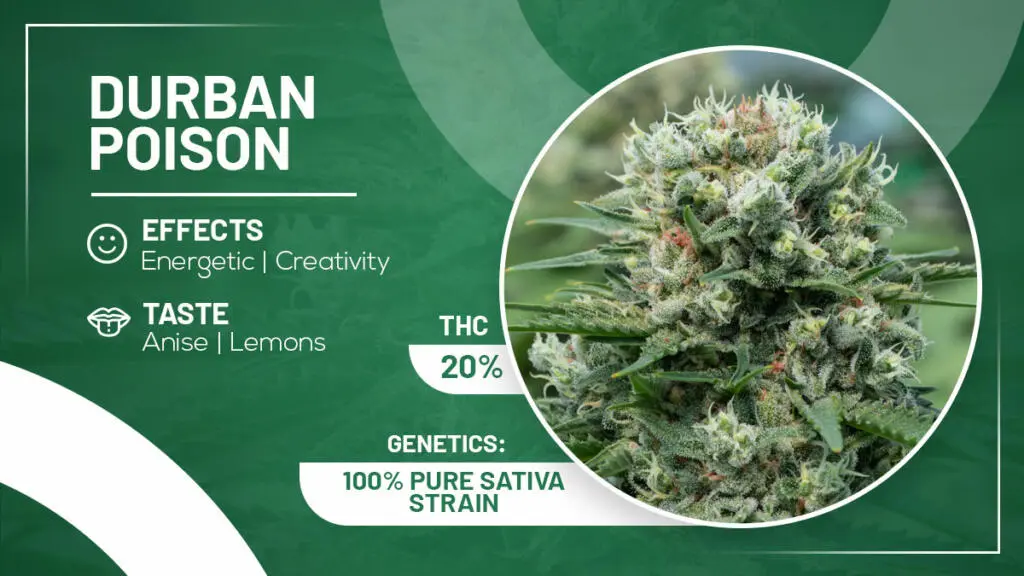 This beautiful, 100% pure sativa strain is causing a lot of excitement in the cannabis community right now and for good reason.
Born out of Durban, South Africa, the 'poison' has been around since 1970. It's grown in popularity ever since to become one of the most popular strains, having been cultivated in fine style for the past 50 or so years in California.
It comes with a relatively high THC level, usually around the 20% mark (or perhaps more) and it's been known to stimulate high levels of energy and creativity. So if you're the creative type, or if you just want a good pick me up, this is going to be a great strain for you.
Generally, Durban Poison is considered to be sativa 101. It's the textbook sativa high that we know a lot of our readers are going to be looking for. Pure sativa strains are rare, but this is a classic!
We've found the taste to evoke anise and lemons, and boy, does it smell good. Durban Poison is fantastic on all the senses!
Where To Buy Durban Poison
You can grab a great quality example of this strain now at Seed Supreme. It's super easy to place an order there, and you can get stealth delivery in just a few days.
>>Check best prices for Durban Poison here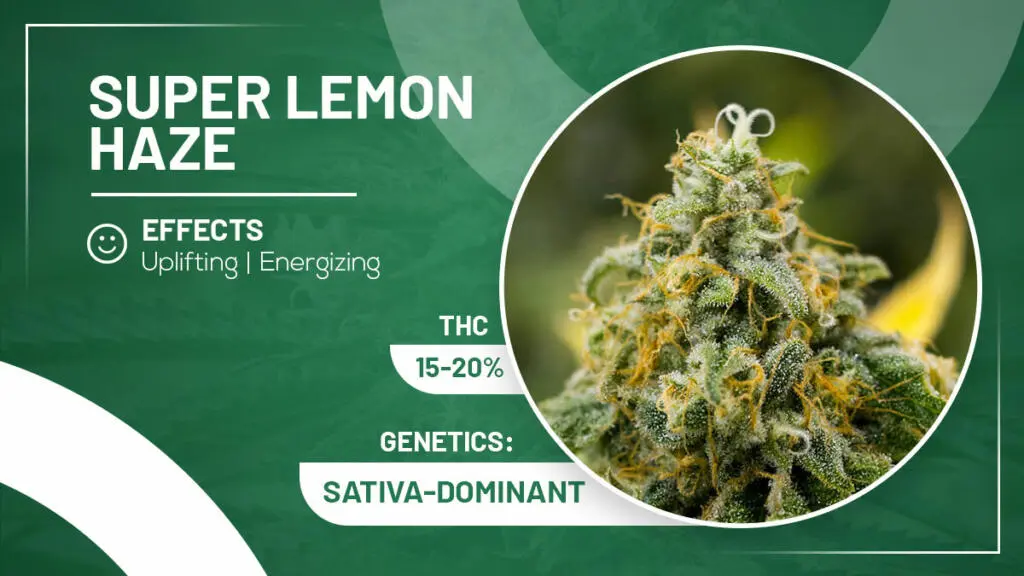 Widely considered as one of the best haze strains of all time, Super Lemon Haze is actually a hybrid combination of Lemon Skunk and Super Silver Haze. It was created by cannabis activist Franco Loja.
Super Lemon Haze is a heavily sativa dominant strain (as opposed to pure sativa, as there is a touch of indica within) that perfectly encapsulates the uplifting and energizing effects of sativa.
This is a high THC sativa strain, with anything from 15-20% available. So it's not quite as THC rich as our number one overall pick, but you'll still get a great high from it. And what's more is that the taste is out of this world.
There's no wonder that Super Lemon Haze is a two-time High Times Cannabis Cup Winnerwith this fantastic taste and sensation combination.
Where To Buy Super Lemon Haze
The best seed bank to buy this strain is at ILGM. And if you want to keep coming back for more there, you can cash in with extra rewards through the VIP program.
>>Check best prices for Super Lemon Haze here
3. Diesel – Best Sativa Strain for Beginners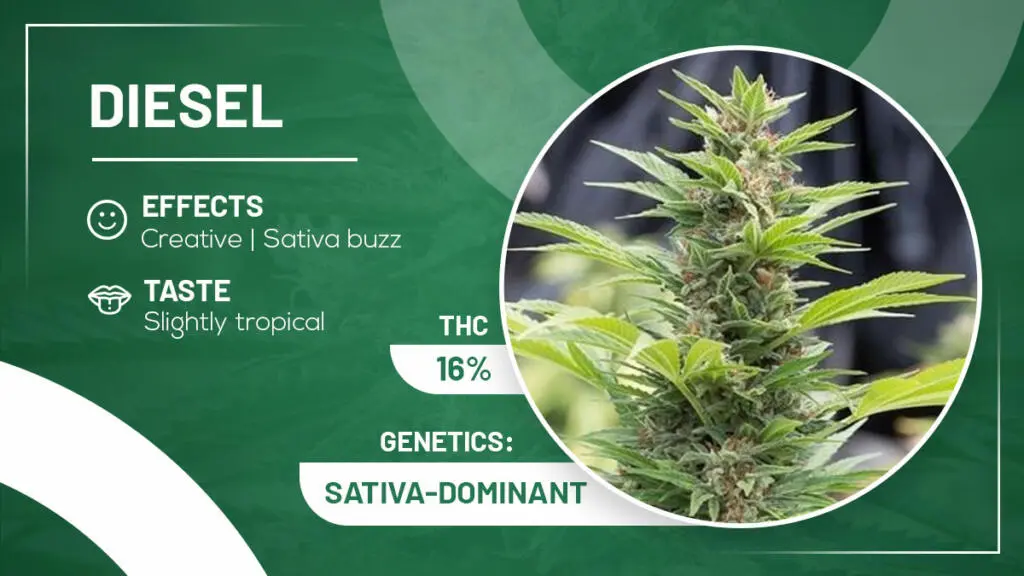 New to growing? We recommend Diesel as a good starting point when it comes to the best sativa cannabis strains. The curation is a little easier with this strain, but you're certainly not going to be compromising on cannabis quality to get that benefit.
There's still a pretty high THC content here at around the 16% mark, but it's not going to catch you off guard with its potency in the way that our top two might.
That's another reason it's great for beginners, but of course, you'll still get that sativa buzz as it's one of the heavily sativa dominant strains.
One of the things that stands out for us with Diesel is the slightly tropical taste. It's a really unique flavor that helps set it apart from the crowd.
Where To Buy Diesel
If you're a beginner (or even one of the more experienced cannabis consumers) who wants to have a spin at growing Diesel, then go grab some seeds from Homegrown Cannabis Co.You can find both autoflower and feminized seeds here. Right now, you might be able to save some more money in their current sale.
>>Check best prices for Diesel here
4. Jack Herer – Best Sativa Strain for Physical Energizing Effects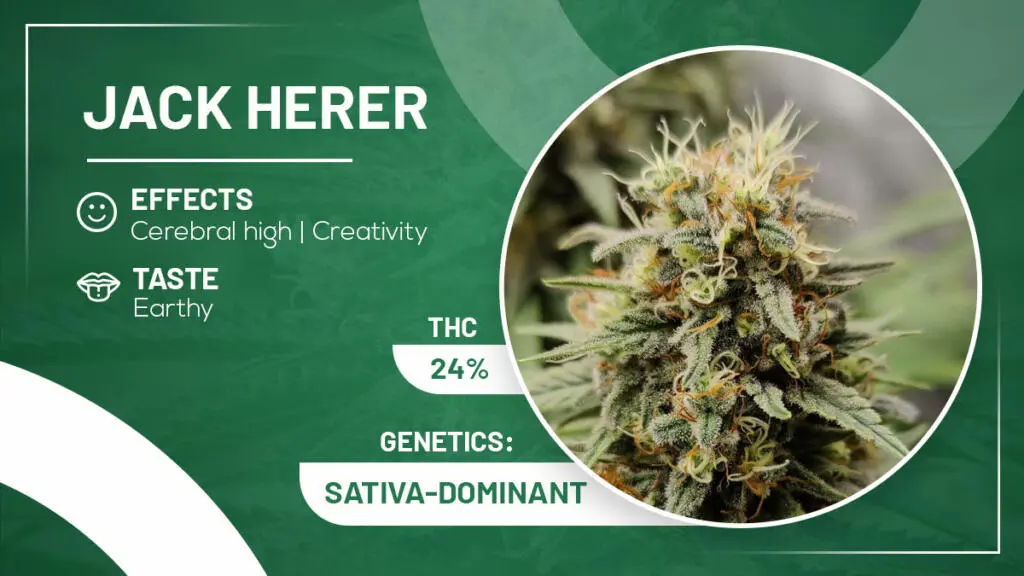 One of the absolute strongest sativa strains out there is Jack Herer. This classic energizing strain is one of the most famous of all time.
Jack Herer can actually vary a lot in terms of its sativa to indica ratio but it's still very sativa dominant overall, and contains a whole bunch of THC, sometimes up to 24%. You're going to get even more sativa energy from this potent strain, hence the category we've picked for it.
The earthy taste is very enjoyable as well, so it's a fantastic all rounder of a sativa cannabis strain. Plus, a potent dose is great for a cerebral high and for increased creativity.
Where To Buy Jack Herer
Want to try it out for yourself? MSNL is the place to be for that. This seed bank has all sorts of strong sativa strains to try out, Jack Herer being the pick of the bunch.
>>Check best prices for Jack Herer here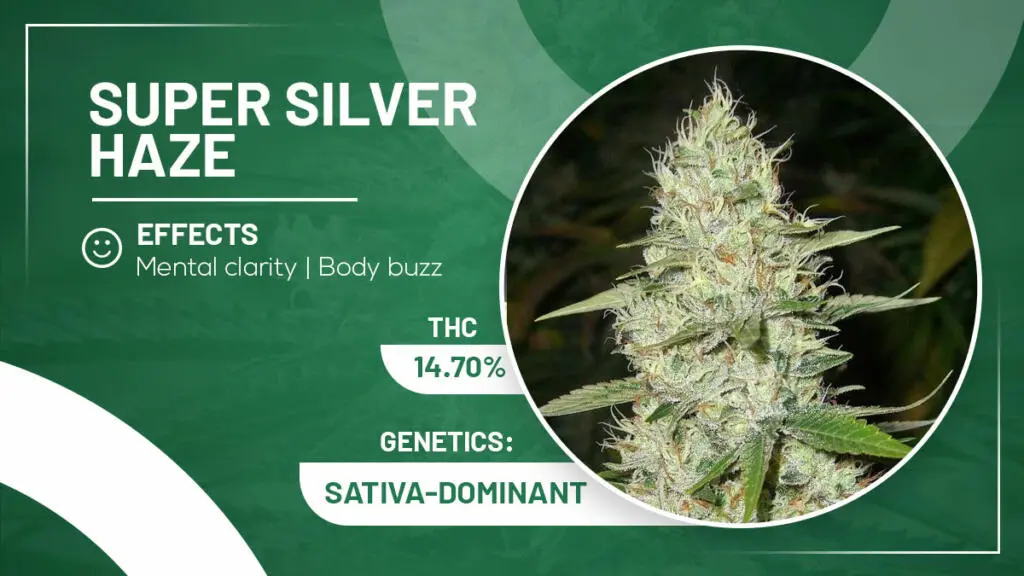 Of course, we've already looked at Super Silver Haze today in its combination with Lemon Skunk to form our number two pick, but if you want to save some money on seeds then you could get this (still brilliant) sativa strain in its original form.
The THC levels are around the same as Super Lemon Haze here, if not slightly lower, but the difference in the high you get from each is negligible.
This sativa dominant strain doesn't taste quite as remarkable as Super Silver Haze, but the price of the seeds does come in a little cheaper, and we know that's going to appeal to a lot of people.
Where To Buy Super Silver Haze
You can get Super Silver Haze seeds for a great price over at Crop King Seeds. You could order a whole bunch of them and get free shipping if your order hits the $200 mark.
>>Check best prices for Super Silver Haze 
Sativa Strains: Our Rankings Explained
Here's a look at the main criteria we used to select our top five sativa strains:
Physical Sativa Effects
There are a few different ways in which cannabis sativa strains can affect us, such as improved energy levels, creativity, and pain relief. That's why we've been finding out exactly which pure strain or sativa dominant hybrid does what best.
Taste
If you're going to be smoking or vaping the cannabis, it's got to taste great, right?
Ease of Growth
If you're new to the world of cannabis cultivation then it's best to start with a strain that isn't too tricky to grow. We've recommended Diesel in particular for that but the likes of Super Lemon Haze aren't very difficult to grow either.
Strength
Outside of physical effects, we also need to know how strong a strain of cannabis actually is. A good indicator of this is the THC level. Anything north of the 20% mark can be considered pretty strong.
Value for Money
How much is the strain going to actually cost you? Is it worth it? You don't want to break the bank on substandard weed.
>>Check best prices for Durban Poison here
Best Sativa Strains: AQs
Here, we answer a few frequently asked questions about the best sativa strains.
Are There Any 100% Sativa Strains?
The best 100% sativa strain right now is Durban Poison. This pure sativa strain from South Africa has a sweet and earthy flavor and aroma and delivers a stimulating high that can help with productivity and mood.
Which Effects Will I Feel From Sativa?
Sativa strain's effects can include invigorating effects like stimulation of the creative juices, producing uplifting effects, stress relief and even treating mood disorders or chronic pain, but medical users should be sure to contact your doctor before prescribing yourself.
Which Other Cannabis Strains Should I Try Out?
We're pretty confident of our top five but there are plenty of other fantastic sativa strains out there to try out, such as Strawberry Cough, Sour Diesel and Amnesia Haze.
A few more of the best strains with sativa dominance in the cannabis world right now are Purple Thai, Blue Dream, Green Crack, Purple Haze and East Coast Sour Diesel.
Which Are the Main Differences Between Indica and Sativa Strains?
The two main types of cannabis strains differ based on their physical effects. Sativa is an uplifting and energetic high whereas indica strains are best suited to making you sleepy.
Sativa is more of a 'head high' whereas indica is more of a 'body high'.
If you do want to try some indica, we recommend Northern Lights. It has a very pleasant taste.
Best Sativa Strains: The Takeaway
So, there we have it. Five of the best sativa strains in the world, with Durban Poison topping our list overall thanks to its uplifting effects and great taste amongst other factors.
There's plenty of other awesome strains to check out though. Super Lemon Haze, Diesel and the rest of our top five are well worth it.
Just make sure to buy your seeds from a reputable seed bank like Seed Supreme to grow your cannabis plant, which offers high-quality seeds with stealth delivery. 
So, take your pick and enjoy.
Button Text